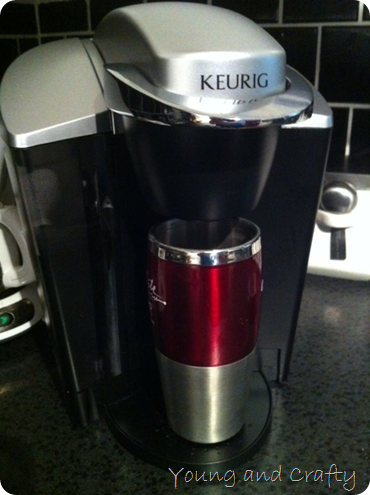 I received this Keurig from Staples.com to test out. Over the past couple of months I have become a coffee addict. The place I work has a Keurig and I really liked it. This one is no different.
This sucker makes your coffee fast. It's so easy to just pop in the K-cup that is already portioned out. I will also be purchasing the reusable K-cup so that I can put my own ground coffee in it. I've found that K-cups can be a little expensive compared to a bag of coffee.
Here's a secret. The 10 oz. option on the Keurigt fills up a big coffee mug (like pictured) about half way. Well I don't know about you but I want more coffee than that! I simply just switch the knob to the 6 oz. option and run the same K-cup again. I find that the flavor is still just as flavorful.
I would definitely suggest getting one of these bad boys. They are perfect for mornings on the run!
Full disclosure, Staples.com provided me with this Keurig OfficePRO Coffee Brewer for the purpose of this review. All thoughts and opinions expressed are my own. To see the full line of Keurig brewers and K-cups, visit Staples.