Let's face it, filing cabinets are ugly. Hideously ugly.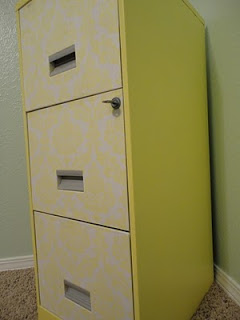 I have been on the search for a filing cabinet for a while now. No, it's not one of those fun things you want to buy but we really needed one. We were using the expandable file folders and had already filled up 2 of them!
So one Sat. garaging, I found one for $10 and it had 3 drawers! Umm score!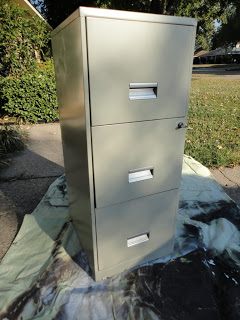 I had zero intention of keeping it that awful tan, with a rusty bottom and nasty top. My great friend Amber who was with me when I bought it asked if I was gonna be using my all time favorite damask fabric. (As seen
here
,
here
, oh and
here
) I promptly told her no becuase I'd already used it all of the
craft
office room. Oh how I would eat those words!
I started off by sanding the bottom since it had flakey paint. I also wiped it down with cleaner.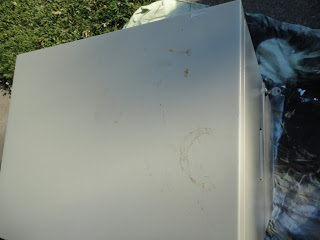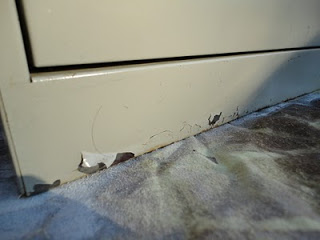 And then the project went south. I love me some spray paint. I am about this close to giving up on that lovely aerosol can. It just didn't adhere to the cabinet or cover like it should have. It almost looks like the beginning stages of camoflauge.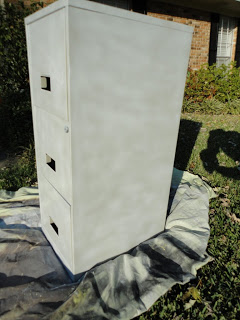 I then turned to regular old paint. I used a roller so that I wouldn't have the brush strokes. I used 2 coats of primer and 2 coats of my yellow paint. (I used it
here
 and
here
.) The regular paint covered MUCH better than the spray paint.
Now what to do about those drawers. Oh yes. I do recall a very pretty yellow damask fabric that would look perfect on the front!  (Sorry no tutorial on how I did it!) I used mod podge and kind of just went with it!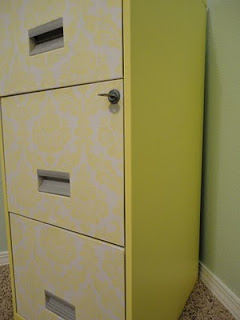 On the top drawer I used clamps from the garage to hold the fabric in place. That little stinkin' clamp left a drity spot on my fabric but it was too late! Let's just overlook that tiny little spot in all of the following pictures. Good thing I'm not a perfectionist 🙂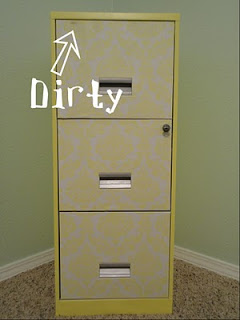 That little lock was a booger to cut around and isn't perfect by any means. Please refrain from enlarging the picture to see my boo-boo. Thank you very much.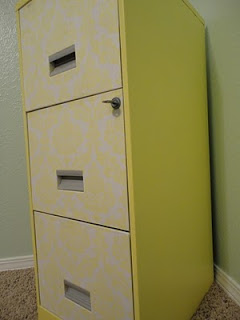 I do love this filing cabinet now! I think it's just adorable and functional!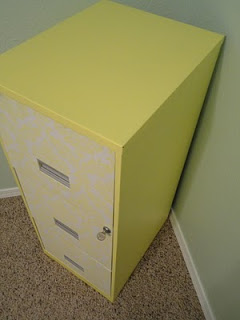 Here's a before and after side by side!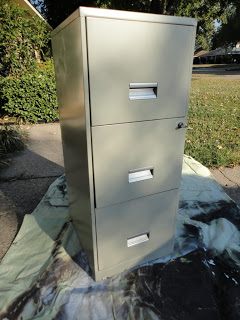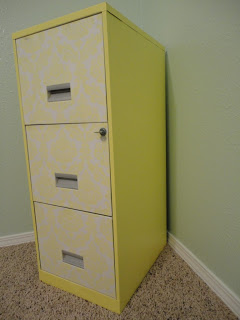 Should I put stuff on top?