Hello Young and Crafty readers, I am Jessica and I am so excited to be a guest blogger on this blog, I'd like to thank Hannah for having me, I am going to share some simple but elegant bedrooms with details and tips. Hope you'll like it.
Simple Yet Elegant Bedrooms
Having a beautiful bedroom is a must. Not only does this give you confidence in your skills as a homemaker, but it can actually help you to sleep better too. You do not have to spend a lot of money and time completely gutting your bedroom and installing new bedroom suites to have a wonderful bedroom, and what follows are some quick and easy tips that will help you transform your bedroom simply and elegantly!
The walls of your bedroom can have a great impact on the overall appearance of the room. If your walls are grubby or grimy, festooned with spider-webs and covered with finger marks, it does not matter how new and well-cared-for your furniture is, the room will look dingy. Apply a fresh new coat of paint or re-do the wallpaper and then be sure to maintain it, clearing dust and cobwebs regularly, wiping up marks as they appear and stopping children from putting grubby hands on your walls.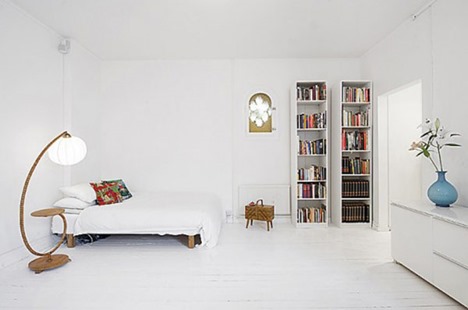 (Image)
Keep the floor nice and tidy too! If you have a bedside rug make sure that it is lined up nicely every morning – make it an early morning routine to straighten the whole room quickly as you dress and make your bed and it will quickly become second nature. If you like wall-to-wall carpeting invest in the best quality carpet that you can. Carpetsofquality has the best range of carpets; the carpet will last many years in good condition, especially in a bedroom, which is not generally a high traffic area. On the other hand, if wooden floors are your ideal flooring material, have a lovely hardwood floor put down, and use soft felt pads on the feet of your furniture to protect it. Hardwood flooring is quite expensive, but if looked after properly, can last many decades.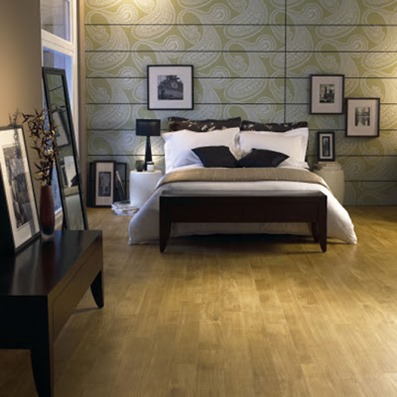 (Image)
Do not accept anything in the bedroom that does not belong there! It is easy to 'pop' something (a bicycle, treadmill or exercise bike, for example) into the bedroom 'for now' to get it out of the way, while a guest sleeps over, or a dinner party is hosted. The problem arises when the item is simply left there. Insist on extraneous items being returned to their rightful place very quickly, before you get used to having it in your room! Try to ensure that your bedroom holds only those pieces of furniture that you need, and do not let it become a depository for items that do not have a place elsewhere in the home. Anything unnecessary or unused should be binned, recycled, sold, or donated to charity.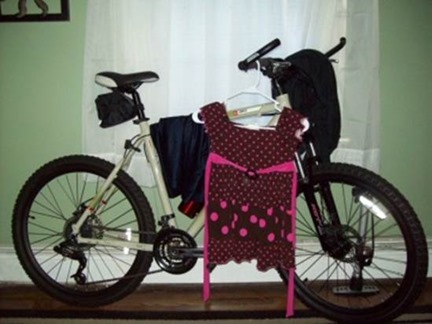 (Image)
Get crafty in your bedroom, making little flourishes and pieces that claim the room as uniquely yours. Purchase some thin foam and some beautiful fabric and learn how to make your very own padded hangers for your best garments. If you choose fabrics that go with your décor, it will add vital finishing touches to your room, completing it in some indefinable way. Lavender bags are so quick and simple to make, and, if you grow your own lavender, cost very little. Sew a small square on three sides, fill with a mixture of lavender flowers and cotton wool (or foam filling), then complete the final edge for an extremely simple scented bag.
Alternatively, cut out a circle of fabric. Leaving a decent space for the frill, sew two rows of straight stitching, also in a circle, parallel to the circumference. Gently pull the ends of the sewing thread, until the fabric begins to bunch up and gather, forming a little round pouch. Fill the pouch with lavender, rose petals or even shop-bought potpourri, then tighten the threads and tie it off tightly, adding a couple of stitches to prevent it coming undone again. These small bags add a powerful fragrance, not only to your undergarments, but to the entire room, suffusing it with wonderful feminine floral notes. Lavender is known to be relaxing, and the smell will help you drift off into a good relaxing slumber.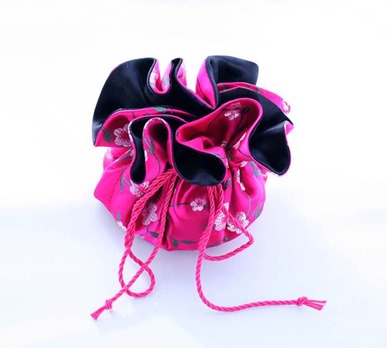 (Image)
Your bedding and the soft furnishings are the area of your room where you can really have a big impact for only a small monetary outlay. Bedding is available in a wide and diverse array of choice these days and you will be able to choose between plain fabrics, small print floral, lively and vibrant stripes and even quirky or humorous prints. Yorkshirelinen has a fabulous range, not only of patterns, but of fabrics as well, ranging from cool crisp cotton to luxurious satin effect. If possible, purchase curtains that match or complement the bedding to help round off the appearance of the room.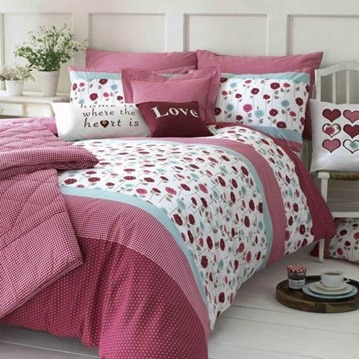 (Image)