Welcome to Young and Crafty! My name is Hannah and I hope that you will browse around for awhile.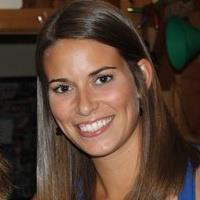 My husband Wyatt and I got married on June 6, 2009 and bought our first house about a week before our wedding. We have both enjoyed making our house into our home by doing DIY projects.  I have enjoyed making things and finding things on the cheap at garage sales, Goodwill and Craigslist.  I have no clue what I'm doing but I am enjoying ever minute of it! With the successes of my "projects" also comes failures and I'm OK with that. I hope you'll follow me on my journey of making our house into our own special place to call our own.
On a more personal note, my life is insanely busy right now!  I am currently working as an ABA therapist for children who are developmentally delayed or who have been diagnosed with Autism.  I'm also attending graduate school to get my Specialist in School Psychology degree.  This blog and craft projects are my therapy to stay sane!!