Here comes Phase II of the kitchen renovation. I thought it was hard to find black counter tops. Well that was a cake walk compared to finding a
backsplash
that even remotely matched. I scoured blogs and
HGTV
searching for the perfect
backsplash
for our kitchen. I had finally decided on this…
White subway tile. Boring. For my taste anyway. But I was so sick of looking that we were going to go with it. I was never completely in love with it but it would do and I did NOT want to look at the ugly peeled off drywall from the Formica for one.more.second. Here's a reminder of how awful it was.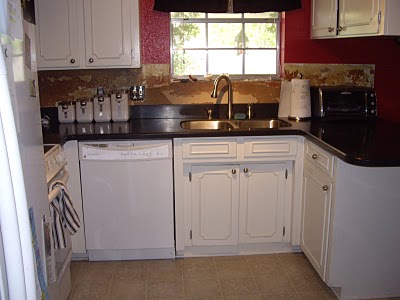 I don't think the multi-colored ripped brown drywall goes very well with he cabinets. Just sayin'. Another thing I didn't like about the subway tile is it would be so much white. So even though I had decided on white subway tile, I still looked for something else.
Then one day I found a picture on a website. (I believe it was on Southern Hospitality's blog from a trip she took to Ikea but don't quote me on that) I swear I heard singing in the background. I was IN LOVE. I emailed the pic to W right away to get his opinion. He liked it too. The decision was made and we made a trip to Lowe's and got all of the essential tiling/grouting tools. And here you have it!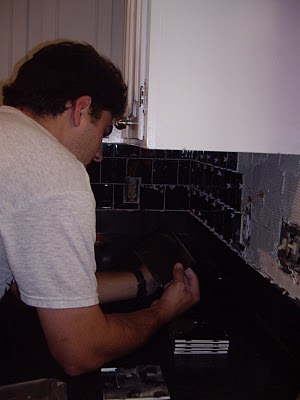 W putting up mortar and tile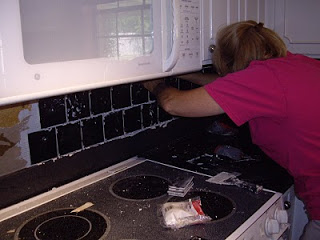 The MIL helping out
(P.S. We couldn't have finished this project with out W's parents!!)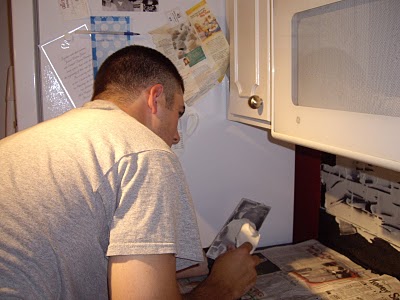 Grouting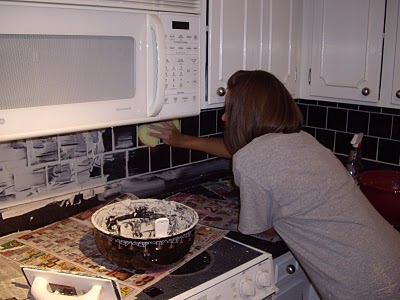 Cleaning it all up
So in case you can't tell by the pictures we went with tiles that you normally find in a bathroom. (Not sure if they have a name) What I loved most about this look was the black shiny tile with the white grout. Classic black and white. I feel like the white grout next to the black tile really makes the backsplash pop. And here is the final look of the tile!!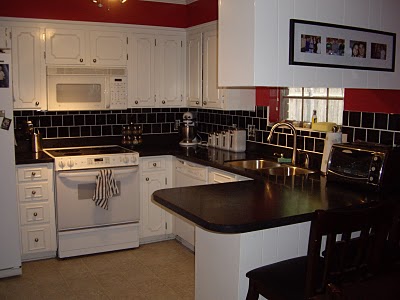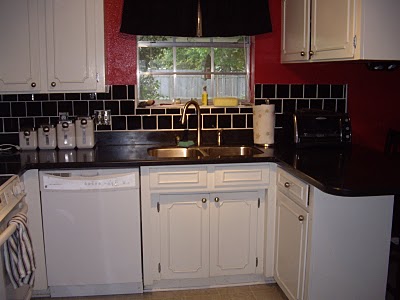 I.AM.IN.LOVE.
There were 2 things that surprised me about this project. 1.) Tiling is fairly easy. W and the FIL had the hard part of cutting the tiles around the switches and the MIL and I mostly put them up. I would say the hardest part of tiling is definitely the cutting around stuff. I almost went with a diamond pattern instead and I'm glad I didn't for the sake of W and the FIL!! It would have required a ton of cutting. 2.) This was pretty cheap. It probably cost us about $225.00 to tile everything. W had a grinder and just bought a blade for that so that we could cut the tile. I don't know if this was the easiest way but it worked for us.
I really do love the turnout and so does the hubs. We still have a few things to finish up. The windowsill is a work in progress and we still need to bring the switches out to be flush with the tile/plug covers. (Does that make sense?) Hopefully we will get that finished up sometime soon!
Hannah
P.S. I forgot to mention that we got free new sink with the counter tops. We decided to go with an undermount and swear I hope I NEVER have and overmount sink again. It is 2148234 times easeir to clean!!
P.S.S. I have so many things that I'm excited to post about that I have to refrain myself from doing like 5 posts a day!!