Well I promised that I would be back to show you my creation. I got this idea off of HGTV a long time ago. (Like back when I still lived in an apartment!) I wanted something big to fill one wall of our dining room (not that it had to be too big since our dining room is small). The space is to small for a buffet so artwork would be perfect! Enough with all the suspense, here are a few pictures!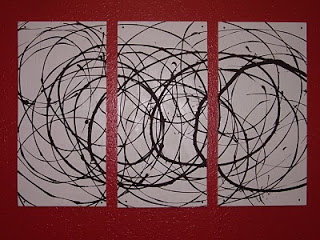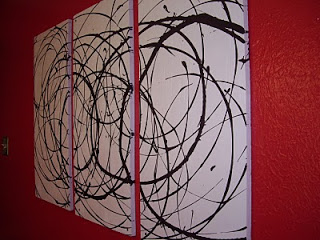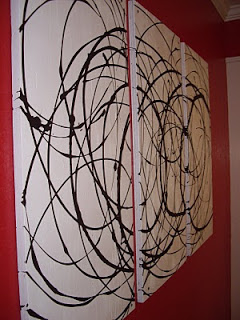 This project was SUPER easy to make. Mostly because I have an awesome Grandpa who gave me the wood for FREE! Can't beat that! He helped me cut the wood to the length and width that I wanted. I then used spray paint to paint the wood white. You could use just regular old paint but I was on a spray paint kick. I then placed all the boards side by side and got my black acrylic paint. I stood above the wood and made circular motions with the bottle of paint. Squeeze harder for fatter swirls and squeeze lighter for smaller swirls. When you hang it up and leave the space between the wood, it will appear as though the swirls go together. Then attempt to hang it up yourself but can't because you suck at measuring have the hubs measure and help you hang it up!
Such an easy project for little cost and a HUGE impact. (Especially if you get the wood for FREE!!)
This project cost maybe $10.00 for spray paint and acrylic paint. I figure if you need to buy wood it would cost $30.00 total and Lowes will cut the wood for you!!
Hope you enjoyed!
Hannah